Searching for a Better Search
Posted: Reading Time:
This article was originally written on Hill Holliday's Codepen account.
The Nature of Search
Search is something that we've taken for granted since the early 2000s. Google dropped the beta flag on their search engine in 2000; the same year it became the default homepage for many Netscape users.
We've been spoiled with information at our fingertips.
We can search billions of records on the Internet within milliseconds and be presented with the exact answer we're looking for. We live in the smartest age in history.
Why is it then, that as soon as we leave Google, that search functionality on our own sites is beyond lackluster; often providing our end users with more confusion rather than answers?
We recently tackled this predicament on our own website, and I'd love to share our results with you.
Data leads to Insights
We almost launched without search at all. We have 6 pages, how hard could it be to find what you're looking for? We went against our gut, and added it in anyway. I've never been more thankful for my gut before.
We kept track of what users were searching for in our analytics, and we were surprised by the results.
Seven out of the top ten search queries were pertaining to internships
This was eye-opening to us, especially because we don't have any pages exclusively for internships. Sure, we knew a lot of visitors come to the site looking for jobs, but we never realized internships were so high on the list.
Our search experience for users searching for internships was disappointing at best. Since we don't have any pages just for interns, all the results were pertaining to job listings whose responsibilities included "managing team members and seasonal internships".
Using this data and insight, we set out to solve this problem.
Expanding Results
If you've ever asked Google a super specific question, like "Who Leads the NFL AFC East?", You've probably been exposed to expanded search results.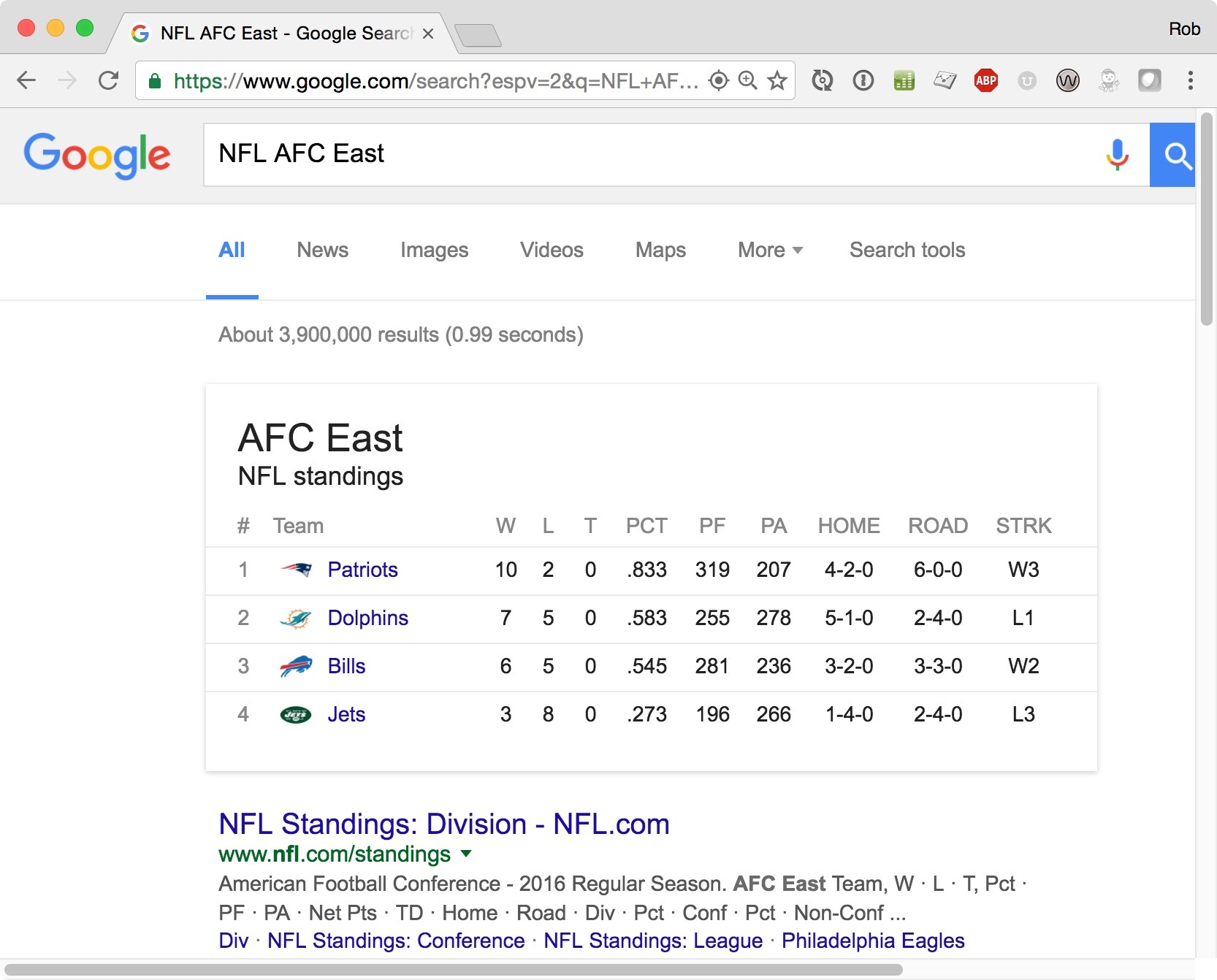 What's happening here, is that the search engine is extracting out the key important data from the top result, and immediately showing it to the user instead. We took this tool as inspiration and sought to recreate it on hhcc.com.
We looked at popular search terms, including "intern" and "internships", and created expanded results that appear moments after our users have finished typing.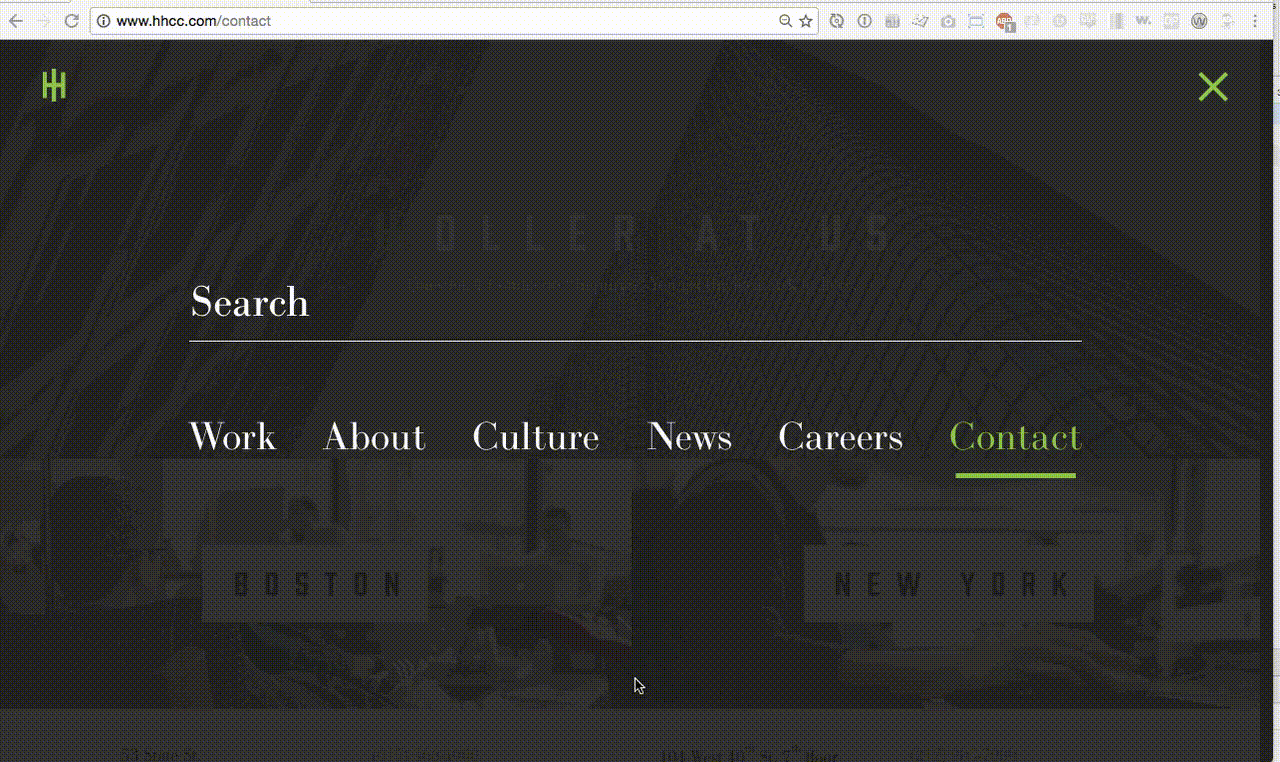 How did this perform in the case of users looking for more information on internships?
We saw a 200% increase in downloads of our internship fact sheet and Application PDFs.
We added expanded results for other queries as well. Searching for members of our Senior Leadership Team immediately show their biographies. Searching for our clients shows their logo, how long they've been a client, and what kind of services and capabilities we provide for them.
It also gave us another outlet to hide easter eggs 😎.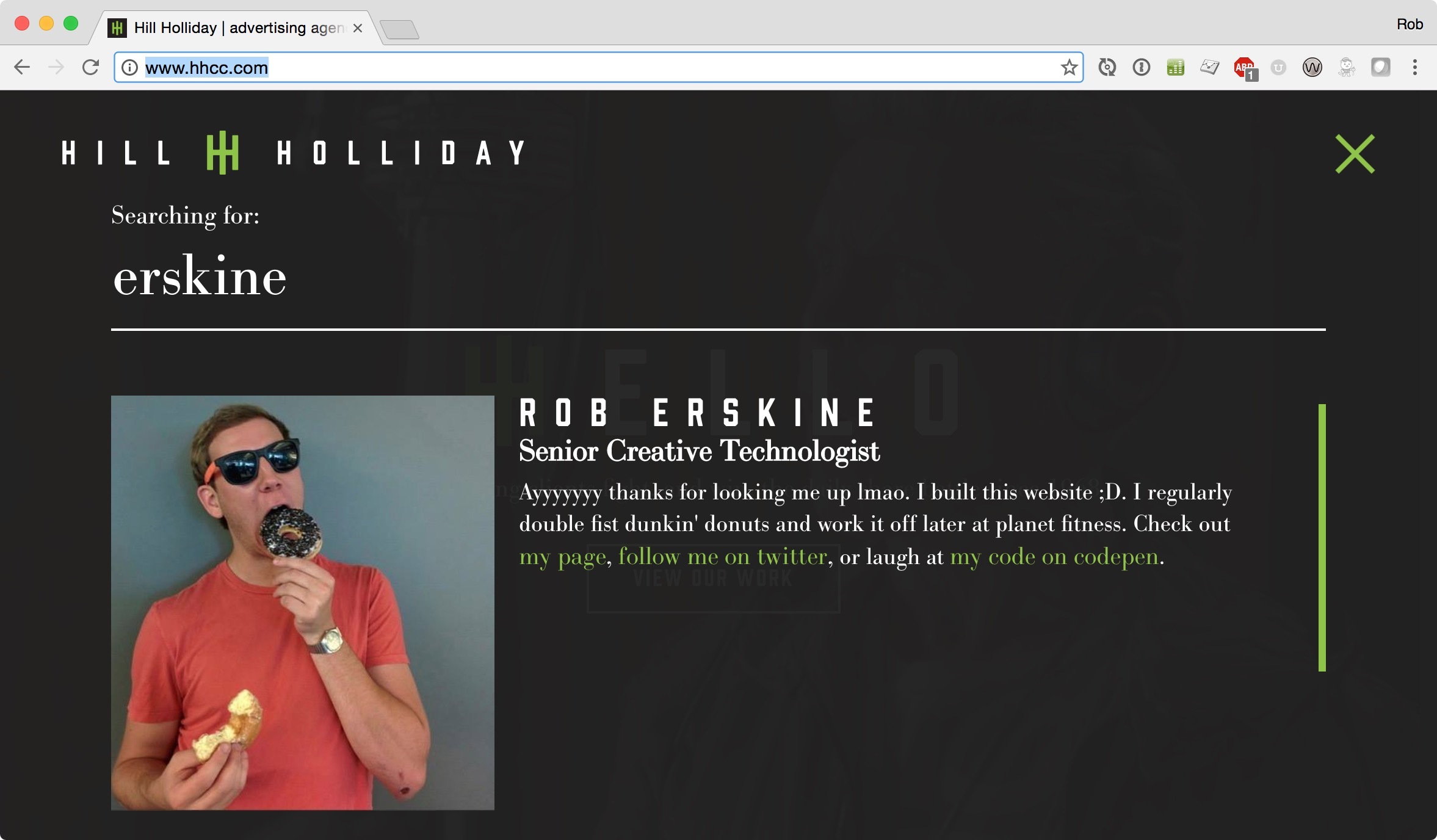 The Weight of the Situation
Another thing we knew we had to get better at was properly weighting our results. Initially, all we looked for when querying for results was whether or not the search term was included in the title field of our content. We quickly realized this wasn't good enough.
We adjusted our search algorithm to weigh in on the title, the traditional body field, as well as a few other unique fields that aren't shared across content types like News, Case Studies, or Employees.
Lastly, we added in an search override field to all pieces of content. Even if a word or phrase wasn't added to the content, we can still ensure that if a user searches for it, it will still show up. This also adds an additional override among additional content; we can always put our best foot forward.
Be Committed to Better
Our whole rationale for looking into search in the first place was to make our site better. The principles we've put into place here lend themselves extremely well to other facets of our site as well.
We've taken our learnings here and built them out into a fully-fledged Performance and Optimization Plan that we've made public. This planning keeps us honest and transparent about what we're doing with our presence.
Finally, this planning not only makes our own site better, but provides additional research and ammo that we can bring together to make our clients, and their respective experiences, better.